Authorities race to identify bodies as rescue workers reach new areas and fear monsoon death toll will rise further
Severe monsoon flooding has killed 213 people in western India, an official said on Sunday, as rescuers continue to sift through villages devastated by torrential rains.
The death toll in Gujarat state jumped from Wednesday's total of 123 to 213, the government said, as waters receded from low-lying areas, allowing rescue workers to reach remote spots.
Overwhelmed authorities, which expect the toll to rise further, said they had struggled to cope with the number of bodies needing identification and postmortems, resulting in delays in confirming the latest deaths.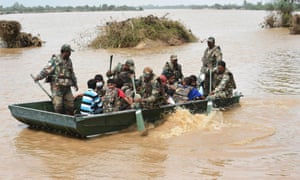 Source: India floods: 213 killed in Gujarat as receding waters reveal more victims | World news | The Guardian