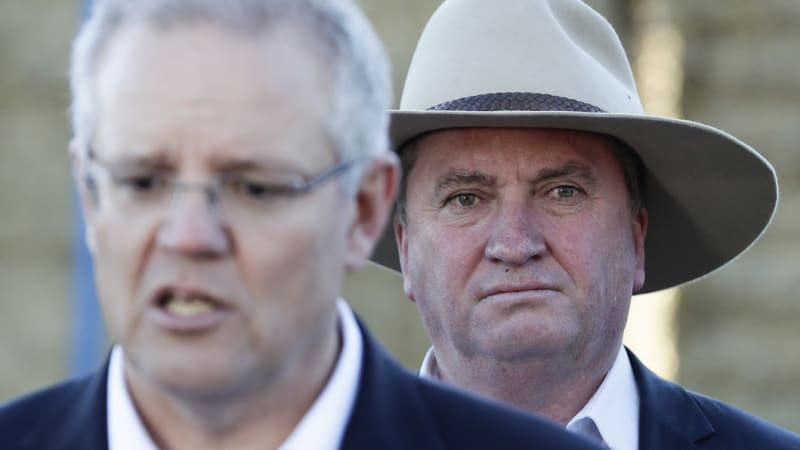 The Coalition government is bracing for its second leadership challenge in less than two months, with Nationals MPs counting numbers to potentially topple Deputy Prime Minister Michael McCormack within days.
The growing internal unrest inside the junior Coalition partner has infuriated the Liberal Party, which is fighting to retain its one-seat majority at Saturday's crucial byelection in the Sydney seat of Wentworth.
Former leader Barnaby Joyce, who resigned in disgrace in February after former staffer Vikki Campion became pregnant with his child, wants to reclaim the top job but has denied making calls for support.
However Fairfax Media understands his Queensland-based backers are counting numbers and believe they could have enough support to challenge Mr McCormack or ask him to stand down.
In a significant development on Thursday night, Agriculture Minister David Littleproud – who is widely viewed inside the government as a potential future Nationals leader – ruled himself out of running in any spill.
"There is no chance of a leadership challenge and even if there was I would not be interested in any positions," Mr Littleproud said.
Mr Joyce's backers claim Mr McCormack has failed to cut through with regional communities and fear a wipeout in Queensland at next year's federal election.
A leadership challenge this week is unlikely. But in a tactic similar to the one used by Home Affairs Minister Peter Dutton in his botched attempt to replace Malcolm Turnbull, a substantial bloc of aggrieved Nationals MPs are attempting to create a crisis around Mr McCormack's leadership.
Most MPs, including some of Mr McCormack's backers, believe a showdown is almost certain next week but warned events were moving quickly and could not dismiss a move on Thursday before Parliament rises for the week.
Source: 'They have lost their minds': Government fuming over growing push to topple Deputy Prime Minister