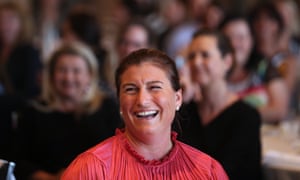 Marriott gets standing ovation at #UsToo as Joyce calls sexual harassment allegation 'spurious and defamatory'
The Western Australian National party has come out in force to back Catherine Marriott as she described some of her "lowest moments" since she made sexual harassment allegations against Barnaby Joyce.
Speaking at the high-profile Perth event #UsToo, the WA Nationals leader, Mia Davies, said she did not want the party to be judged by the "actions of very few", while her fellow party members said they would be disappointed if Joyce returned to the leadership.
"As somebody who has been involved with the National party for a long time, it's awful to think that our organisation is judged by the actions of very few," Davies told Guardian Australia.
After news broke of Joyce's affair with his former media adviser Vikki Campion, Davies called for Joyce to resign as leader just before Marriott's allegations leaked in February…
Source: Barnaby Joyce accuser Catherine Marriott hailed by WA Nationals as she tells of her pain | Australia news | The Guardian